Phoenix, Arizona - Arizona is garnering national attention for job gains. While there's always more work to be done, earlier this year, Arizona finally gained back all of the jobs lost during the Great Recession. (Phoenix Business Journal 03/24/16)
More recently, Kiplinger magazine ranked Arizona as the state with the second-fastest projected job growth rate in the country for 2016 at 3.2 percent. Our state was bested only by Idaho whose projected job growth rate is 3.5 percent. Neighboring state Utah came in third with a projected growth rate of 3.1 percent, and Colorado and California were tied for the ninth and tenth spots at 2.7 percent.  (Kiplinger 06/16)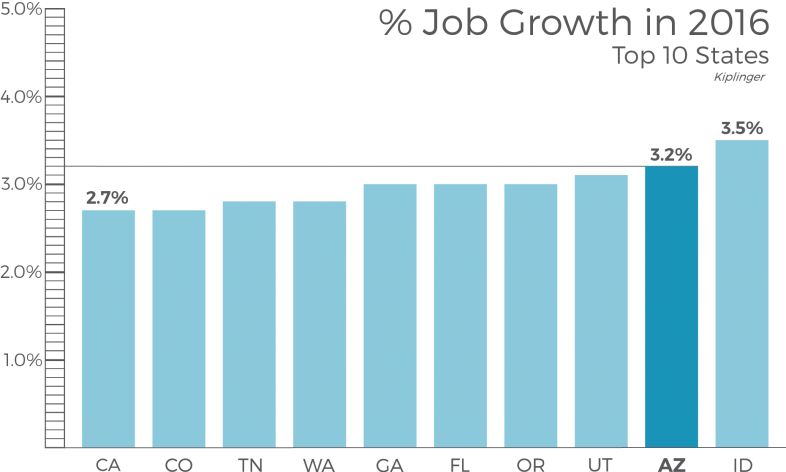 In June, Forbes also recognized the Phoenix-Mesa-Scottsdale area as the "City Winning the Battle for Information Jobs" outside of San Francisco and Silicon Valley. Growth in information employment here was 7.51 percent for 2015 while that workforce grew 39.29 percent from 2010-2015. (Forbes 06/06/16)
California-based medical technology company Dexcom just announced plans to open a manufacturing plant in Mesa projected to bring approximately 500 jobs. Arizona beat out other West Coast markets considered for the facility, including Texas, Utah and Colorado according to Dexcom CEO, Kevin Sayer. Phoenix Business Journal 06/15/16
In April, the co-founders of start-up Tuft and Needle penned and essay stating why they recommend building a start-up in Phoenix over Silicon Valley. (Thought Catalogue 04/19/16)
In May, Arizona was ranked the 6th-best state in the country for business by Chief Executive Magazine's annual "Best & Worst States for Business" survey, representing a three-spot climb from last year's report. (Chief Executive Magazine 05/11/16)
Most importantly, these ranking and statistics are accompanied by the arrival of more jobs for Arizonans.

Kiplinger pointed to several companies bringing more jobs to Arizona, including:
800 jobs Home Depot is planning to add in Tempe (Phoenix Business Journal 10/22/15)
The approximately 1,000 full-time employees Northern Trust Corp will hire at a new operating center (Northern Trust)
Hundreds of jobs to be added by Cenlar in the Phoenix/Tempe area (Business Journal 02/12/16; Cenlar 05/13/16)
Farmers Insurance's plan to add 1,000 employees (Farmers 02/04/16)
Growth Not Restricted To Maricopa County

George Hammond, director of the Economic and Business Research Center in the Eller College of Management at the University of Arizona recently said "We're (the Tucson area) seeing the strongest growth since before the Great Recession." (Arizona Republic 06/01/16)

In May 2016, Caterpillar announced that it is bringing a regional headquarters along with 600 well-paying jobs to Tucson over five years, including engineering and executive management positions. (Arizona Daily Star 05/03/16)

And Banner Health plans to spend $400-million dollar hospital expansion in Tucson (Arizona Republic 03/27/16).

These announcements of new jobs and investments heading to the area come as Tucson's annual employment growth rate for February 2016 on a seasonally adjusted basis came in at 2.9 percent – virtually identical to the statewide average of 3.0 percent at the time, and well ahead of the national annual rate of 1.9 percent.  (University of Arizona Eller Economic and Business Research Center 03/25/16)

Add all of this to last year's news that companies like Comcast (Arizona Republic 05/21/15) and HomeGoods (Arizona Daily Star 04/22/15) would collectively bring approximately 2,000 jobs to the area, and the evidence points to one conclusion – Tucson is among our state's brightest rising stars.
Outside of the two largest counties there is also good news.
Just this month, Governor Ducey announced that Dot Foods, the nation's first and largest food industry redistributor, will be taking steps to establish a new distribution center in Mohave County, Arizona. This facility will create 125 projected new Arizona jobs over a three-year period. Dot Foods plans to invest more than $45 million in infrastructure and various equipment. 
And Forbes mentioned Flagstaff as a place to watch for tech jobs. "Other fast-rising smaller stars include Flagstaff, Ariz.,  Durham-Chapel Hill, N.C.,  Madison, Wisc., Bend-Redmond, Ore., and Portsmouth, N.H. All these metro areas have enjoyed information job growth of 20% or more since 2010, albeit off small bases." (Forbes 06/06/16)